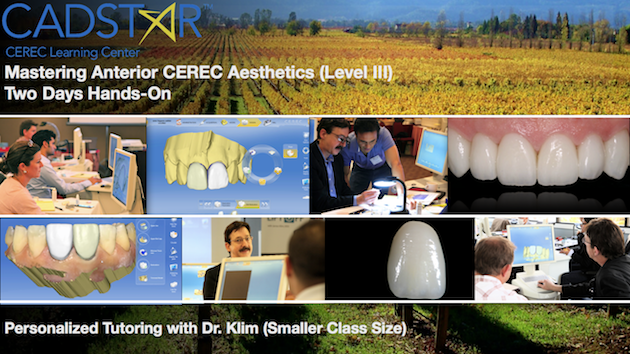 This class is designed for the serious CEREC user with the desire to take aesthetic dentistry to a new level. Obtaining results that will rival nature begins in the planning phase. Being well prepared for the aesthetic clinical objectives will simplify the chairside experience. The CEREC application to aesthetic dentistry should be seamless when operating in a systematic format.
Mastering anterior CEREC aesthetics is about understanding and implementing a systematic sequence that will be dependable with each aesthetic case. The fundamental aesthetic principles taught in this class are a reflection of Dr. Klim's 25 years of clinical experience and years of post-graduate teaching in aesthetic dentistry.
Dr. Klim's classes are not only unique because of his mastery of CAD/CAM aesthetic dentistry. They are customized to your learning style and they target the primary understanding you need to raise your clinical aesthetic skills.
Categories: