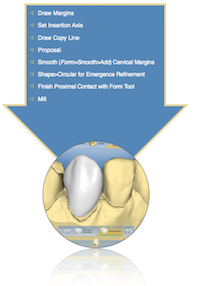 The CEREC 4.0.3 update is terrific!  The CADStar CEREC Liftoff tutorial webcasts highlight what I like best about this update. Find the video links in the CEREC Liftoff Message Center.  
The Form Tools are defining a new level for Design Tool quality in the 4.0.3 SW released service pack.  It is now an optimal tool to refine proximal contacts while in the Design Screen and has the added benefit of the Cutaway Feature when working in a multiple tooth design virtual case.
BioCopy has been optimized in the 4.0.3 Service Pack.  We are able to propose 95% of the BioCopy Image.  This one proposal aspect significantly expedites the design process and will provide more predictable restoration(s) outcomes. BioCopy is my preferred design proposal approach when designing multiple anterior teeth. This BioCopy Optimized tutorial will review my latest Design Phase Screen steps to streamline the process.
The Dimension Tool provides an efficient and simplistic approach to modifying the buccal-lingual, mesial-distal, or the full size of the proposed restoration.  The concept is similar to the Pre-positioning feature in the SW prior to 4.0.
Categories: