Submitted by

James Klim DDS,...

on Fri, 01/20/2012 - 11:24am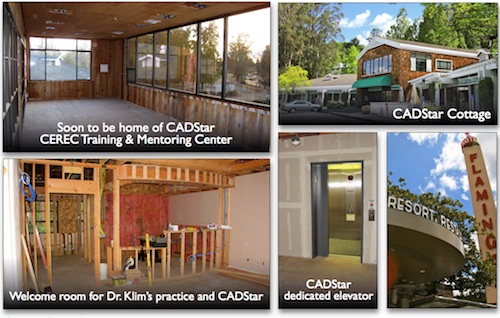 The soon to be new home of the James Klim practice and CADStar CEREC Training & Mentoring Center is about to happen.  My current practice location has been claimed by the government and I have been asked to relocate my practice in a "special way" as only the government can do.  My current facility has served me well and has the feel and layout to support my practice and teaching objectives for the remaining part of my career.
Well, plans can change not by our choosing.  Yet, the blessing in this story is that my new home will be more than I could ask for.  I will be able to walk to work.  It is located in the heart of the Northern California wine country next to a Sonoma County landmark, the Flamingo Resort. So that mean those attending our CEREC courses can walk to class as well.
The new CADStar CEREC Cottage will embody my practice and training/mentoring center.  We will use the practice side to simulate "real life" CEREC experiences.  I am looking forward to finally having a special home for my practice and CEREC mentoring.  It will be called the CADStar CEREC Cottage.
Outside of CEREC training & mentoring, attendees will be able to experience the famous wine tours, Northern California coast, and visit San Francisco.
I would like express my graditude to Patterson Dental for partnering with me to make this project happen.  Thanks Patterson Dental!  Love You!